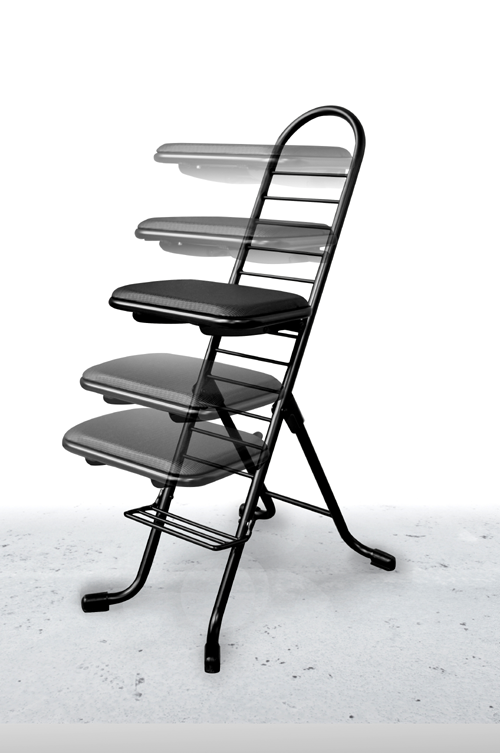 From a low crouch to a standing position, the seat height can be adjusted to 12 levels (12.5" to 33.5", 2" steps) by removing the seat and hooking it to the horizontal bars located on the chair frame. This means you can easily adjust your seat height according to your needs. A single Pro Work Chair can guarantee the optimum work posture anytime, anywhere.

Best suited for the working posture
Conventional chairs tend to cause fatigue due to the uncomfortable posture they promote. The Pro Work Chair solves this problem with four special rubber attachments under the seat base which allow the seat to tilt to the front and to the left and right so that it can adjust to your body movements and disperse the weight. The front tilted position of the seat is especially beneficial because it maintaining the natural state of the spine and hip which means less stress to the back and thigh, reducing worker fatigue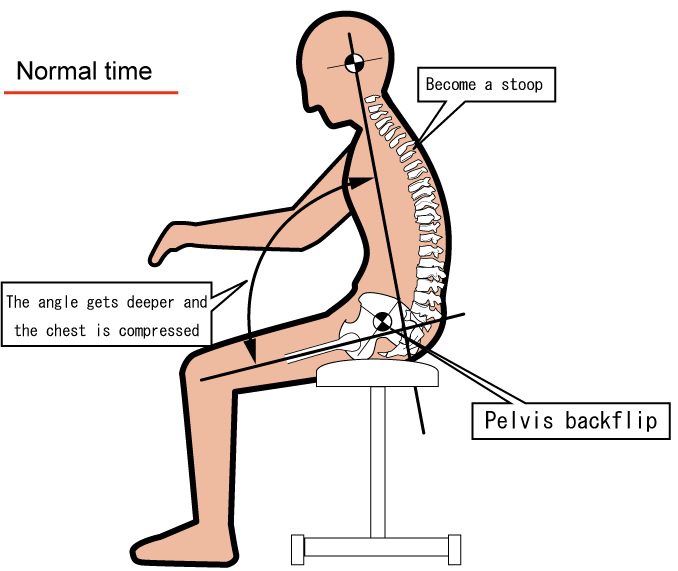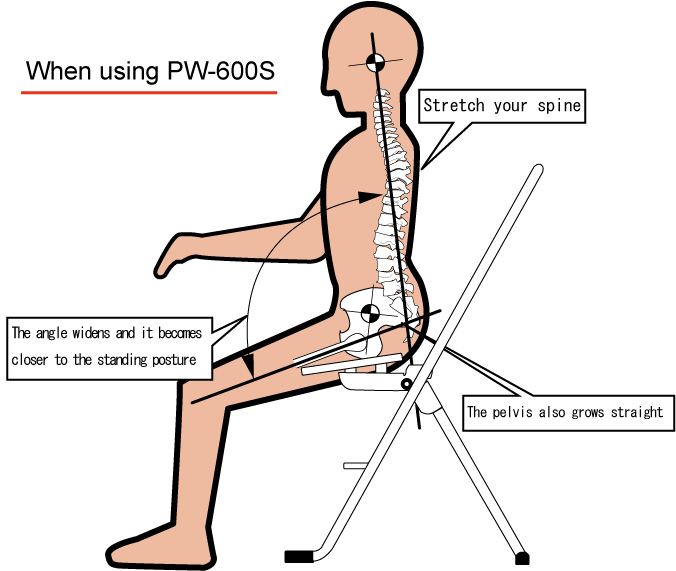 The seat can be easily attached and detached. And you can fix it at your favorite height.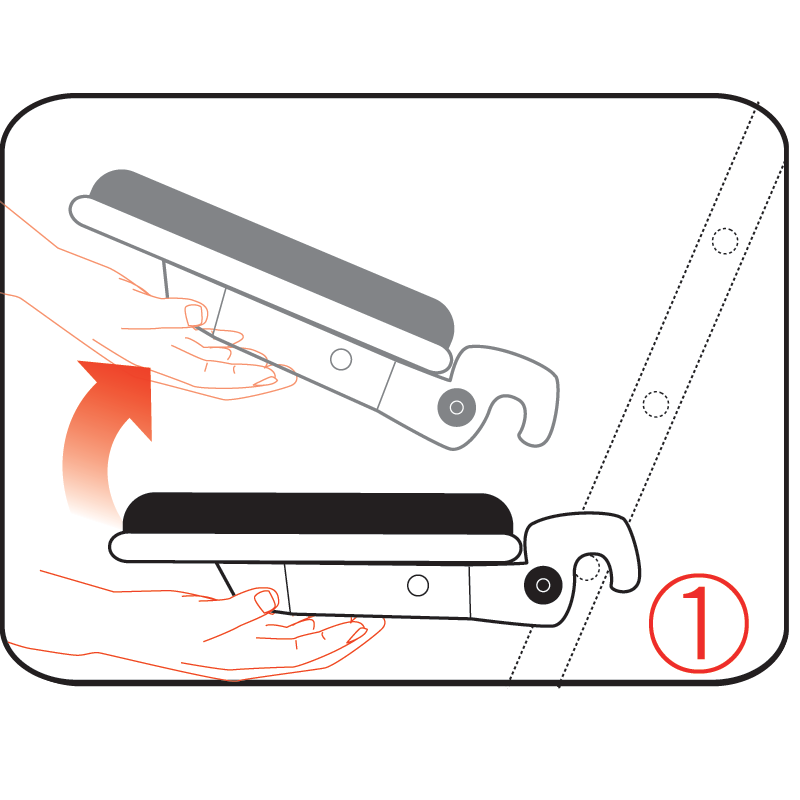 If you lift the front of the seat, the lock will be released andyou will be able to remove the seat.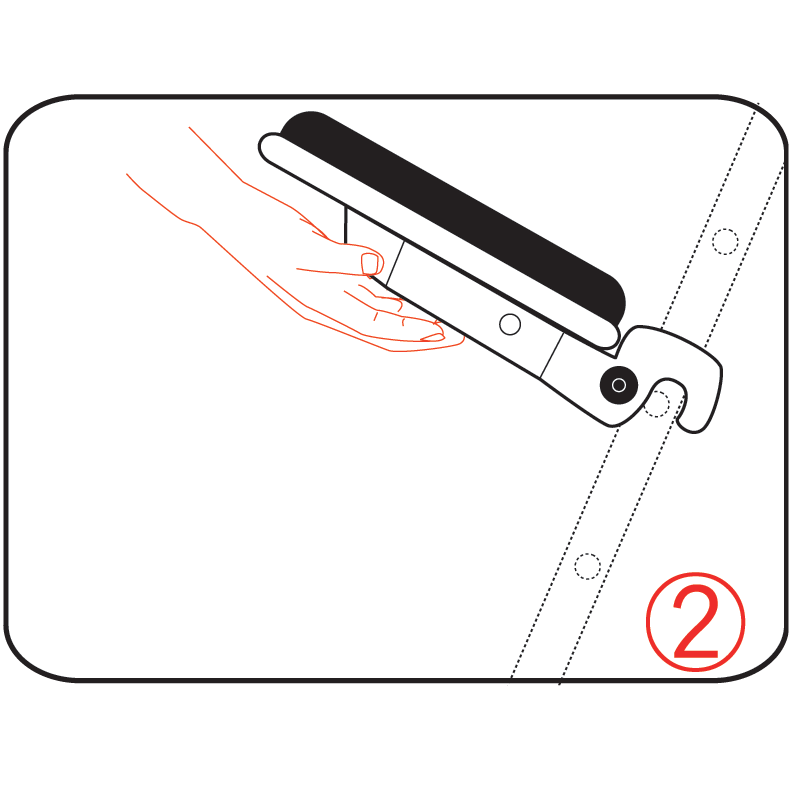 Hook the seat hook on the bar of your choice
When the seat becomeshorizontal, the stopperfixes the seat by the principle of leverage.
Various sheets according to the application
Products used
PW-100/PW-550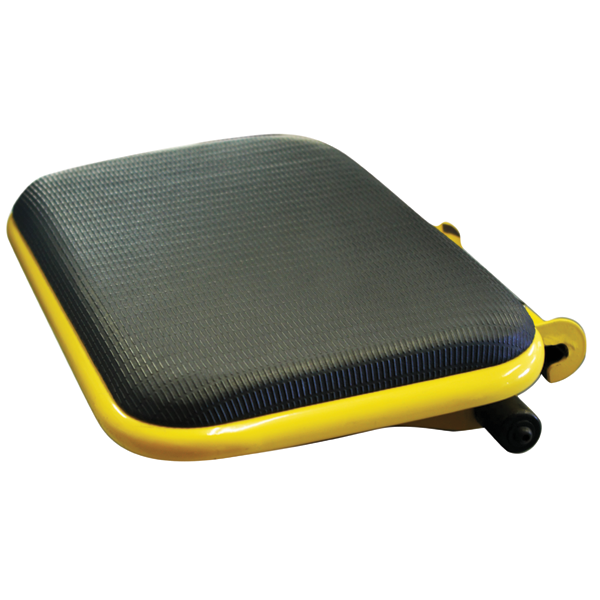 Normal type with fixed seat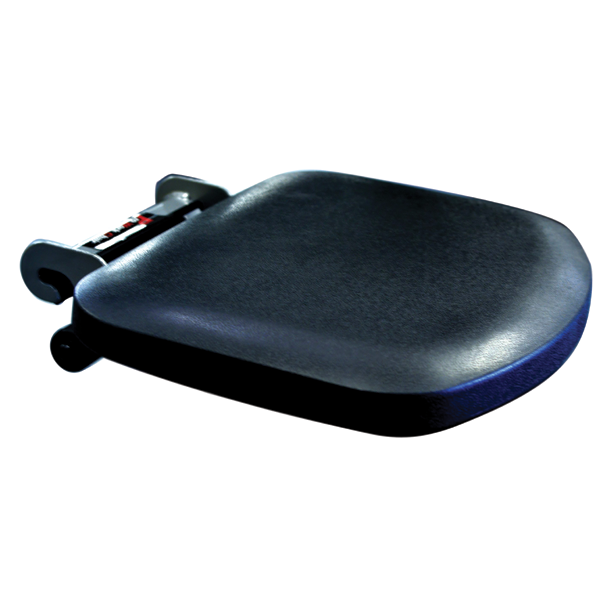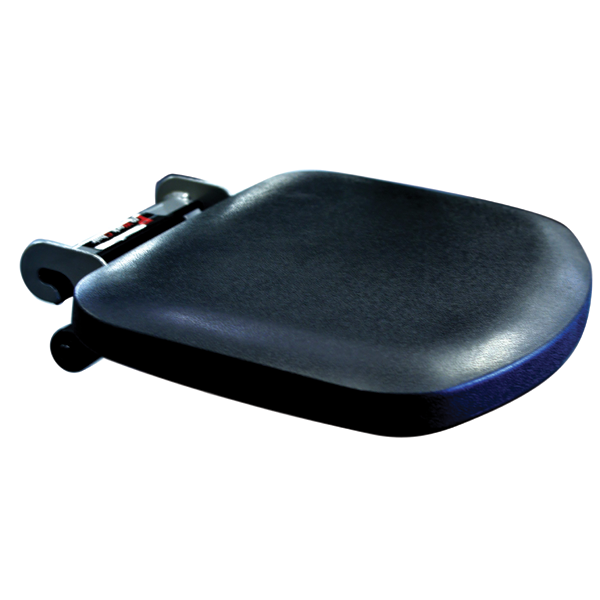 Urethane foam sheet resistant to scratches and dirt
Products used
PW-200S/PW-600S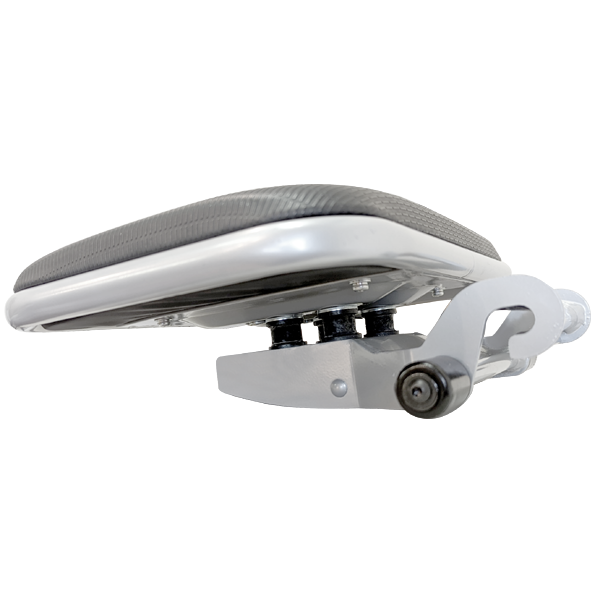 The seat surface swings with special rubber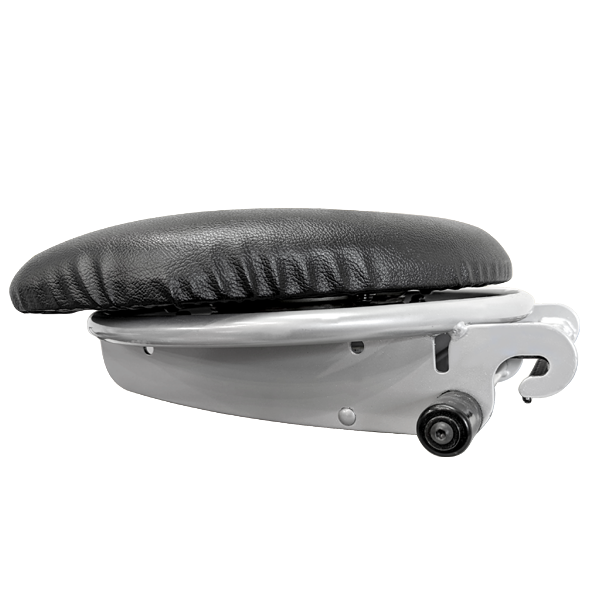 The seat surface rotates 60 degrees to the left and right
Model
PW-500
PW-100
 
 
Size (mm)
W420 x D590 x H930
W420 x D440 x H650
Height Range (mm)
SH 300 – 830
SH 300 – 540
Weight
7.1kg
5.4kg
Frame
Powder coated steel pipe
Frame Color
Black, Yellow, Silver
Seat
Vinyl leather / Black
Unit
1 Piece/1 Carton
Gross Wtight
9.4kg/carton
7.0kg/carton
Carton Size(mm)
W430 x D145 x H1120
W430 x D145 x H790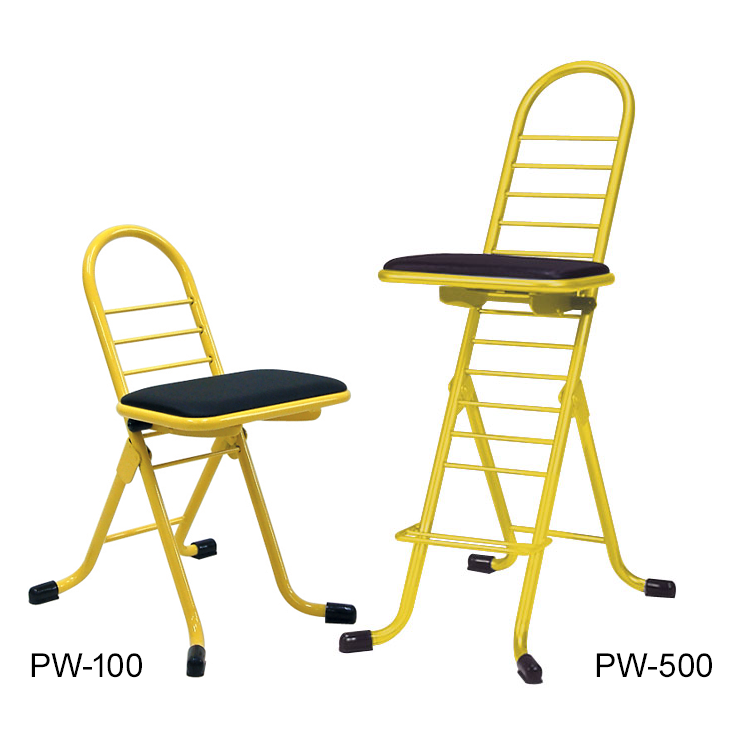 | | |
| --- | --- |
| Model | PW-550 |
| Size (mm) | W420 x D590 x H930 |
| Height Range (mm) | SH 300 – 830 |
| Weight | 7.1kg |
| Frame | Powder coated steel pipe |
| Frame Color | Black, Yellow, Silver |
| Seat | Urethane foam / Black |
| Unit | 1 Piece/1 Carton |
| Gross Wtight | 9.4kg/carton |
| Carton Size(mm) | W430 x D145 x H1120 |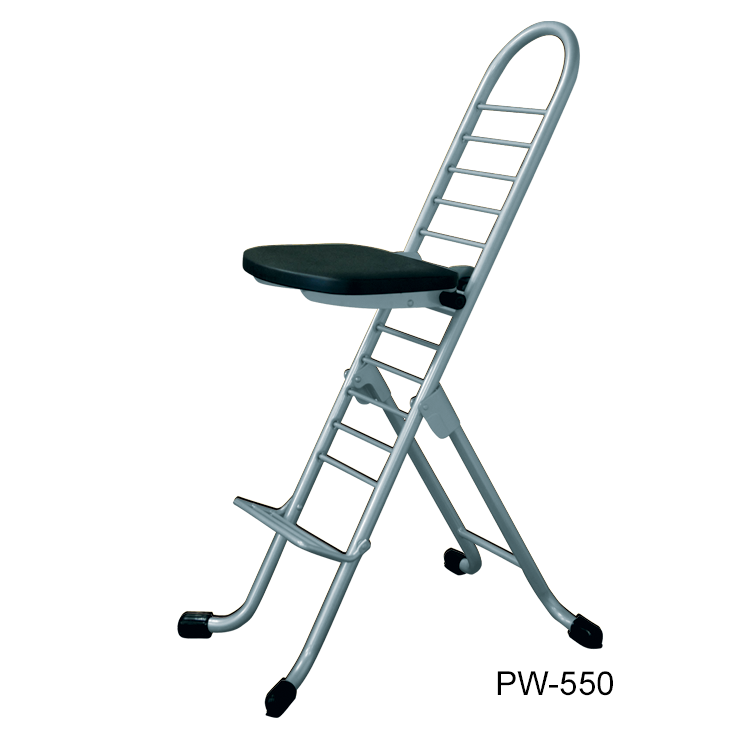 Model
PW-600S
PW-200S
 
 
Size (mm)
W420 x D590 x H930
W420 x D440 x H650
Height Range (mm)
SH 330 – 860
SH 330 – 570
Weight
7.7kg
6.0kg
Frame
Powder coated steel pipe
Frame Color
Black, Yellow, Silver
Seat
Vinyl leather / Black
Unit
1 Piece/1 Carton
Gross Wtight
10kg/carton
7.2kg/carton
Carton Size (mm)
W430 x D175 x H1120
W430 x D175 x H790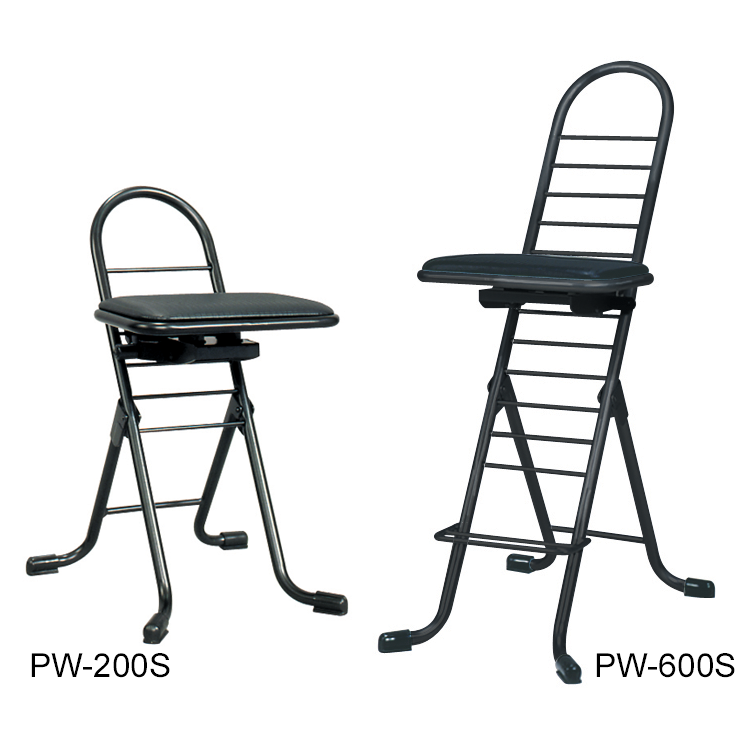 Model
PW-700R
Size (mm)
W420 x D590 x H930
Height Range (mm)
SH 300 – 830
Weight
7.1kg
Frame
Powder coated steel pipe
Frame Color
Black, Yellow, Silver
Seat
Vinyl leather / Black
Unit
1 Piece/1 Carton
Gross Wtight
9.4kg/carton
Carton Size(mm)
W430 x D145 x H1120